PQQ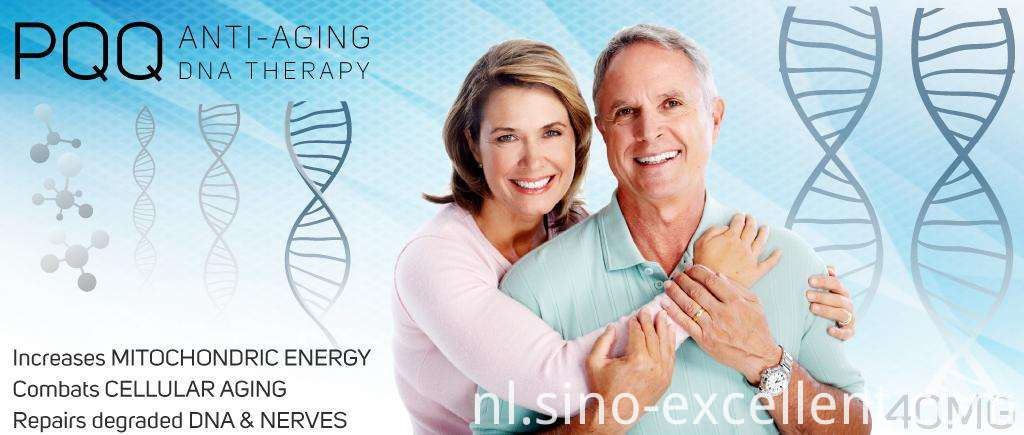 Pyrrolochinolinechinon (PQQ) is redox cofactor. Het wordt gevonden in grond en voedingsmiddelen, zoals kiwi's, alsmede menselijke moedermelk. Ezymen die PQQ bevatten worden quinoproteïnen genoemd. Glucose dehydrogenase, een van de quinoproteïnen, wordt gebruikt als glucosensensor. PQQ stimuleert groei in bacteriën.
Geschiedenis
Het werd ontdekt door JG Hauge als de derde redoxcofactor na nicotinamide en flavin in bacteriën (hoewel hij vermoedde dat het nafthoquinon was). Anthony en Zatman vonden ook de onbekende redoxcofactor in alcoholdehydrogenase. In 1979 heeft Salisbury en collega's, alsook Duine en collega's deze prothetische groep uit methanoldehydrogenase van methylotrophes geëxtraheerd en zijn moleculaire structuur geïdentificeerd. Adachi en collega's ontdekten dat PQQ ook werd gevonden in
Acetobacter.
Naam product: High Purity pyrrolochinolinechinon PQQ Powder
1) Zuiverheid: 98% min HPLC
2) CAS: 72909-34-3
3) formule: C 14H 6N 2O 8 Productspecificatie van hoge zuiverheid Pyrroloquinoline Quinone PQQ Poeder
| | |
| --- | --- |
| Items | Standards |
| Appearance | Fine Powder |
| Color | Reddish Orange to Reddish Brown |
| Identification | Positive Match With Standard |
| Assay(Dry Basis) | Not Less Than 98% |
| Loss On Drying | Not More Than 12% |
| Particle Size | Not More Than 99% Through 20Mesh |
| Ash | Not More Than 0.1% |
| Heavy Metals | Not More Than 10PPM |
| Arsenic(As) | Not More Than 1PPM |
| Cadmium(Cd) | Not More Than 1PPM |
| Lead(Pb) | Not More Than 0.5PPM |
| Mercury(Hg) | Not More Than 0.1PPM |
| Aerobic Plate Count | Not More Than 1000cfu/g |
| Yeast & Mold | Not More Than 100cfu/g |
| E. Coli | Negative |
| Salmonella | Negative |
Functies van PQQ:
1) Als een krachtige antioxidant beschermt en verhoogt PQQ de functionaliteit van de bestaande mitochondriën, waardoor de mitochondriale veroudering kan worden opgelost.
2) PQQ bevordert ook de generatie van nieuwe mitochondriën (mitochondriale biogenese) .- Verhoogde mitochondria = verhoogde energieproductie.
3) PQQ stimuleert de productie van zenuwgroeifactor (NGF) .- NGF triggert de groei van zenuwcellen om beschadigde zenuwen tegen beroerte of ander letsel te repareren.
FAQ:
1. Wat zijn uw betalingsvoorwaarden?
T / T of L / C.
2. Wat is uw levertijd?
Meestal zullen we de zending in 7 tot 15 dagen regelen.
3. Hoe zit het met de verpakking?
Meestal bieden we de verpakking als 25 kg / zak of doos. Natuurlijk, als u speciale eisen aan hen heeft, zullen we volgens u.
4. Hoe zit het met de geldigheid van de producten?
Volgens de producten die u besteld heeft.
5. Welke documenten u verstrekt?
Meestal bieden wij Commerciële factuur, Verpakkingslijst, Bill van laden, COA. Als uw markten speciale vereisten hebben, laat het ons weten.
6. Wat is het laden van de poort?
Meestal is Shanghai, Bejing of Tianjin.
Product Categorie : Hete Producten