Ashwagandha-extract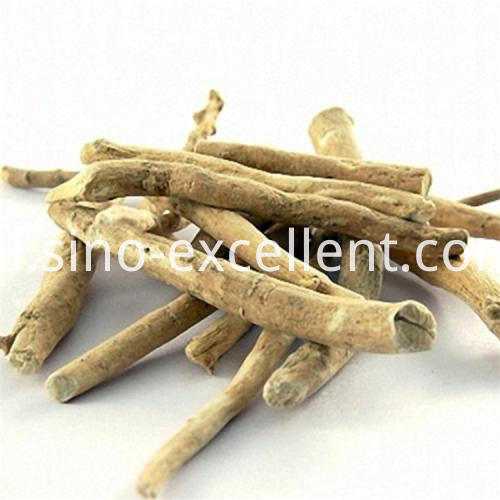 Withania somnifera, algemeen bekend als ashwagandha, Indiase ginseng, gifkruisbes of winterkers, is een plant uit de familie Solanaceae of de nachtschade. Verschillende andere soorten in het geslacht Withania zijn morfologisch vergelijkbaar. Het wordt gebruikt als een kruid in de Ayurvedische geneeskunde. Deze soort is een korte struik die 35 tot 75 centimeter lang wordt. Tomentose takken strekken zich radiaal uit vanaf een centrale stengel. De bloemen zijn klein en groen. Het rijpe fruit is oranjerood. Ashwagandha is een plant. De wortel en bes worden gebruikt om medicijnen te maken. Akwagandha heeft veel toepassingen. Maar tot nu toe is er niet genoeg informatie om te beoordelen of het voor een van hen effectief is. De naam Ashwagandha komt uit het Sanskriet en is een combinatie van het woord ashva, wat paard betekent, en gandha, wat geur betekent. De wortel heeft een sterk aroma dat wordt beschreven als [paardachtig]. In de Ayurvedische, Indiase en Unani geneeskunde wordt ashwagandha beschreven als [Indiase ginseng. Ashwagandha wordt ook gebruikt in de traditionele Afrikaanse geneeskunde voor verschillende kwalen.
Productnaam: Ashwagandha-extract, Ashwagandha PE, Withania somnifera, India Ginseng-extract
Latijnse naam: Withania somnifera
Gemeenschappelijke namen: Ashwagandha-wortel, Ashwaganda, Ajagandha, Indiase ginseng, winterkers
Botanische naam: Withania somnifera
Bloemen: gele bloemen, klein, besachtig rood fruit
Onderdeel van de gebruikte plant: basisproduct
Specificatie: 10: 1, 1% -5% withanolides
Uiterlijk: bruin poeder
Distributie: India, Pakistan en Sri Lanka.
Product Categorie : Hete Producten