Berberis vulgaris , ook bekend als gewone berberis, [3] Europese berberis of gewoon berberis, is een struik van het geslacht Berberis. Het produceert eetbare maar sterk zure bessen, die mensen in veel landen als een scherp en verfrissend fruit eten.

De struik komt oorspronkelijk uit Midden- en Zuid-Europa, Noordwest-Afrika en West-Azië; [4] Het is ook genaturaliseerd in Noord-Europa, inclusief de Britse eilanden en Scandinavië en Noord-Amerika. In de Verenigde Staten en Canada is het in het wild gevestigd in een gebied van Nova Scotia tot Nebraska, met extra populaties in Colorado, Idaho, Washington State, Montana en British Columbia. [5] Hoewel het niet genaturaliseerd is, wordt het op het platteland van Nieuw-Zeeland op grote schaal geteeld als een haag op boerderijen. Het wordt in veel landen voor zijn vruchten geteeld.

Het is een bladverliezende struik die tot 4 meter hoog wordt. De bladeren zijn klein ovaal, 2-5 centimeter (0.79-1.97 in) lang en 1-2 centimeter (0.39-0.79 in) breed, met een gekartelde marge; ze worden gedragen in clusters van 2-5 bij elkaar, onderbroken door een drietakige wervelkolom van 3-8 mm lang. De bloemen zijn geel, 4-6 millimeter (0.16-0.24 in) over, geproduceerd op 3-6 centimeter (1.2-2.4 in) lange pluimen in de late lente. De vrucht is een langwerpige rode bes van 7-10 millimeter (0.28-0.39 in) lang en 3-5 millimeter (0.12-0.20 in) breed, rijpend in de late zomer of herfst; ze zijn eetbaar maar erg zuur en rijk aan vitamine C.
Berberis vulgaris extract
Ingrediënten: Berberine chloride; Berberberberine hydrochloride n-hydraat; HCl; Berberine hcl
Vorm: poeder
CAS #: 633-65-8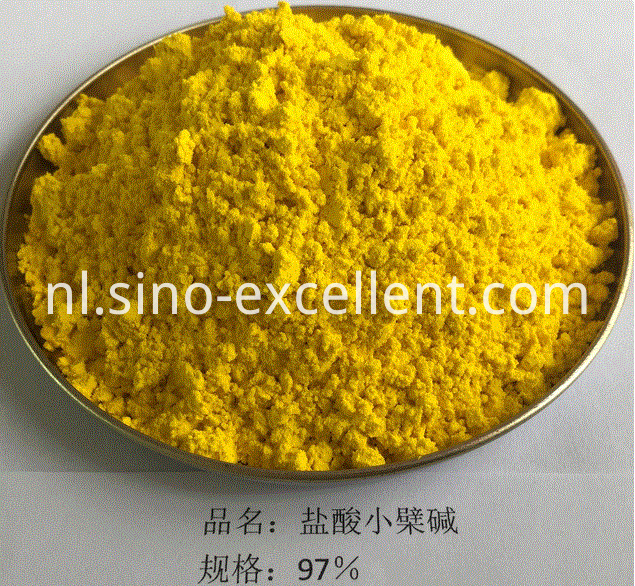 Product Categorie : Hete Producten